Post-Daddy's Day celebration on 24th June 2006 at:
This place is next to Allson Hotel and their business is always very good!! See? They even have to reserve tables for their customers wor~
Mayonaise prawns, honey chicken and satays... woooo!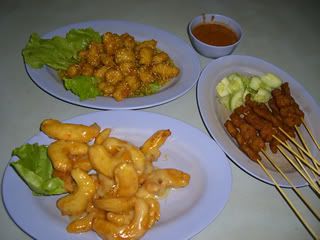 Yummy corn soup that's really sweet and thick. Nice!
Sambal kangkung... my bro and my staple when eating
tze-char
=D
Steamed mock fish in fried ginger and dark soya sauce... not in menu and recommended by the lady taking our orders. Really yummy wor!
Yummy yummy... all the dishes and my satay =P~~~
5 of us... and we finished every single dish!! *burp* So delicious how can waste wor?!
And lastly, my lemon tea... freshly brewed by the coffeeshop one. =)
Dinner with dear, his bro and his bro's girlfriend, on 25th June 2006.
Sweet and sour mock fish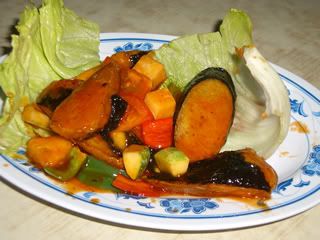 Gung por chicken
Sambal kangkung again! Yes it's my fave at all
tze-char
places!!!
All the dishes...
And finally, our satays!!! 20 sticks, 5 each. Wooooo~ *happy*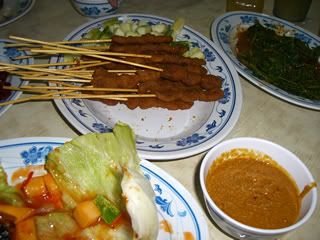 Realised I had satay 3 days in a row! I almost never get to eat vegetarian satay and suddenly get to eat for everyday! Wahahaha~ =P