Yesterday's dinner was at Dining @ Sakae, after watching
Over The Hedge
at PS with dear, his elder bro, his elder sis and her 2 adorable sons~
Dear's bro ate sashimi.
Dear loves miso soup a lot!!
Same as the last time I ate at
Dining @ Sakae
, I had
agedashi tofu
and
yasai tempura
.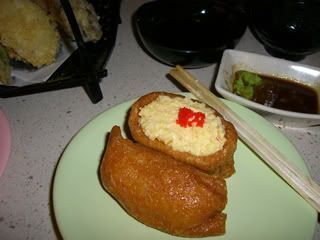 Another of my staple...
tamago inari
.
Dear's sis ordered this... guess what's inside the pot?
Seafood!!
I ordered
ebi avocado temaki
but gave deardear the
ebi
, and only remembered to take this pic after I've taken a bite. Haha~ And dear's bro shared
edamame
with me... yum!
Seafood
chawanmushi
came last cos need 30 minutes to steam... gave all my seafood to dear though. Too bad no plain
chawanmushi
at Dining @ Sakae.