Before dinner at Grand Court with my parents and baby brother, I had these for lunch~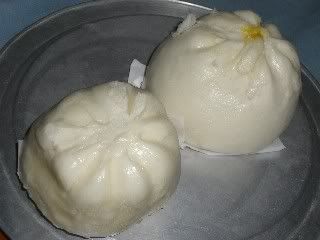 Steamy hot mock duck bun and curry potato bun... yumyum!! Keke~ I'm a very easily satisfied girl! (^_^)
It's Mother's Day today and it's the first time I gave my family a big big treat at Grand Court Vegetarian Restaurant, which is very near Somerset MRT.
Here's the sharksfin soup... just nice 4 servings in this
little pot
big bowl. =P
A closeup shot of the sharksfin soup. =D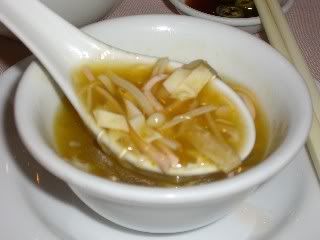 Thai-style diced mock chicken. Appetizing~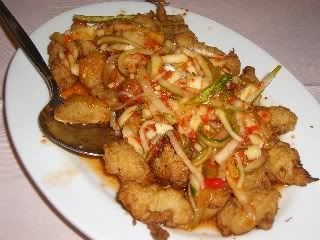 Mushrooms with asparagus... delicious yet healthy!!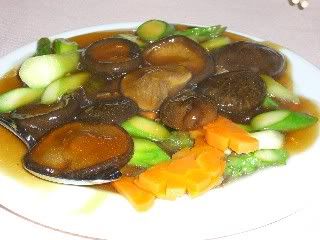 Vegetarian prawns fried in cereal~ uber crunchy and yummy!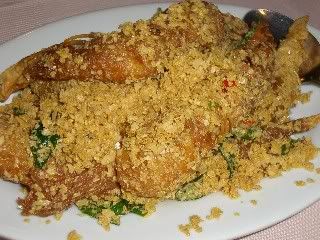 The special menu today was quite limited and more costly. I didn't anticipate this because it's the first time I'm treating my family on Mother's Day... perhaps I shall bring my parents out a week before Father's Day instead of on the actual day itself to avoid such marketing gimmicks which is actually quite hurting for my wallet. =P
Pardon these 2 super crappy-looking pics cos taken right on the spot in front of the Beard Papa's stall at Takashimaya, where my baby bro and I bought and shared an eclair and a fondant chocolat~ Here's the eclair in my bro's hand; it's already bitten by my dear baby bro before I managed to get my camera ready... Haha~
And the fondant chocolat. I actually aimed the whole camera into the white paper bag to snap this shot! If I didn't say, who would have guessed what this is?! Hahaha~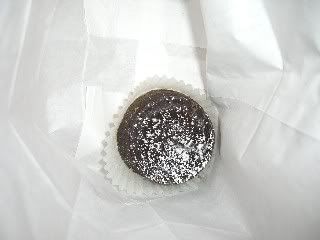 My mum's complaining that I'm so fat still eat so much... wah lau!! It's my baby bro who's craving for these impromtu desserts one leh~ Hahaha... he really knows how to find good food. Today's my first time to Grand Court but he's already eaten there a few times before with his girlfriend already! And he's eaten at many other restaurants as well... restaurants where I haven't been to before!! Have to ask him intro me some nice places to eat liao... then I can post some new pics here. \(^_^)/