Monday's dinner: crunchy stirfried cabbage with shredded carrots and tomato omelette with oatmeal. I love the mouth-watering tomato omelette!!!
Yesterday's dinner on my bro's plate. Mummy always lay the dishes out nicely on his plate when keeping his dinner for him to eat after he returns from office. We had sweet and sour mock fish slices and
xian cai
with shredded mock ribs. =)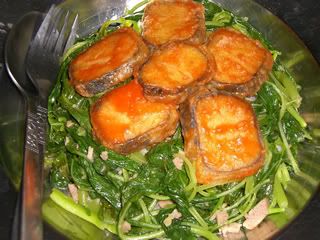 Today's dinner!! First there's the stirfried cabbage, still retaining the original flavour of the cabbage... uber sweet and crunchy!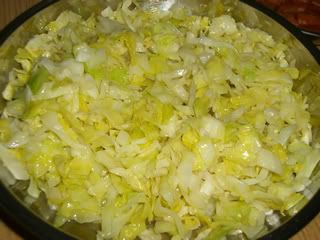 Then there's diced mock ham fried in tomato ketchup. =D~~~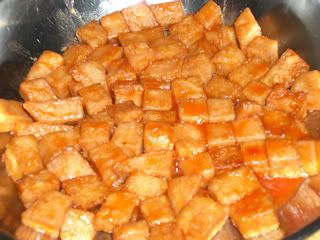 Lastly we have the wintermelon soup with some chinese herbs and mock chicken pieces. It's very tasty!! And mummy says according to the recipe (she loves to read those healthy cookbooks that deals with veggies or herbs etc) this is a slimming soup!! Keke~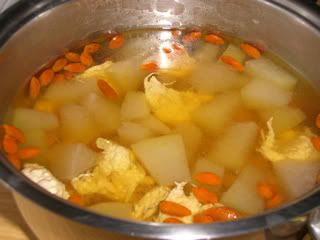 My impromtu dinner after I returned from the KL trip for MTA 2006~ The instant noodles that my mum cooked may not look appetizing to you at all but mind you, it's really delicious!!! The noodles, cooked with a sliced fresh tomato, was not too wet and not too dry, slightly coated with an egg and seasoned to the justright level. Not too salty and not too bland, it's yummy, at the right dampness, and a pretty decent treat to my tastebuds considering that it's just instant noodles!!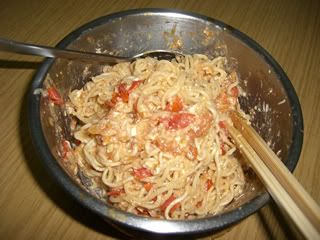 A bit extra because these are not Mummy's cooking at all! Taken at JP Banquet foodcourt in B1 last week, after having a foot reflexology session with my colleague. Bought some stuff at the JL sales after my dinner!
My colleague's set dinner that looks so good that a girl from the neighbouring table came to ask her where she got this and bought the same set!!
My
yong tau foo
... I love tomato and green veggies!!! Healthy and very yummy too!!!