Today I'm on leave and Mum cooked lunch for both of us. Normally she'll cook something really simple like boiled greens or something, but today she cooked 2 dishes just for the 2 of us!
Shredded cabbage stirfried with little bits of shredded mocked ribs... crunchy and healthy! Looks simple, tastes irresistable!!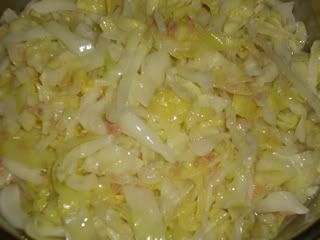 Bittergourd omelette! Sounds yucky? But no!!! Mum's the best cook~ Her bittergourd dishes never taste yucky! I never touch any bittergourd dish outta home, but Mum's bittergourd dishes are simply yummy!!
With our 2 bowls of rice - a mixture of fragrant white rice and organic brown rice. I've got a terrific mother who's always taking care of our health without neglecting our tastebuds! Superb~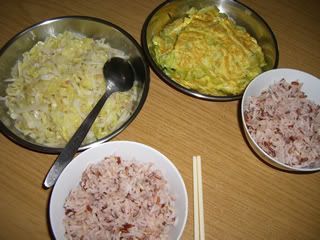 A close up of the omelette. Notice how thin my mum sliced the bittergourd? Crunchy and fresh yet not a single hint of bitterness. I give this dish a 10 outta 10!! ♥~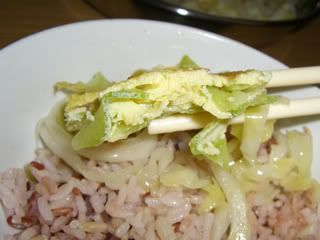 Today's dinner... Mum cooked 苋菜 again! I love stirfried 苋菜~ It's one of my fave greens... super yummy and smooth! But it's quite a hassle for Mummy as she has to "skin" the 苋菜 before they are cooked and served... and that's quite time-consuming.
There's also fried beancurd. The beancurds are very fresh... Daddy bought them at the market after his work and Mummy cooked them straight away after washing and marinating with a bit of salt... without going into the fridge and out. No other seasoning yet very tasty! Can taste the original favour of fresh beancurd. Very nice!!
This was actually my bro's dish. Notice that the rice is already in the bottom layer. Mum always took care of little things like this... isn't she a great mother?? Haha~ You must be wondering what I'm talking about. Look~ Mummy will put all the rice and veggies in a dish so when bro's back it's ready to be served immediately. However if the rice were to be left on the dish instead of in the rice cooker, the rice will eventually turn dry and stiff. To prevent the rice from turning dry from airing, mummy laid the veggies on the rice, and then the prettily fried beancurd on top to whet my bro's appetite. Mummy's always so thoughtful. :) Why to find a better Mum? No way! My mum's the best! (^_^)v