I always love the rice dumplings made by my mum. She always makes a lot and some people will want to buy from her but she doesn't want to take orders because it means she has to make more and it's more tiring for her. Normally she already makes a lot for us and also for some close friends or relatives. Especially her glutton daughter... me!! Who uber love her dumplings so much that can eat 4 at one go! I'm not kidding~ I ate 4 dumplings per meal since I was 10... until now wor~ Aiyo only once a year mah... don't even try to stop me!!! Hahaha~ Scary
bo
?? =P
I wasn't given the chance to do hands on cos Mummy didn't want me to spoil the dumplings for her. Haha~ Think she scared I 越帮越忙 and singlehandedly destroy all her efforts! =P So in the end I became the
official director cum photographer
to proudly produce this pictorial documentary to document this event of the year:
The making of our homecooked rice dumplings! 《妈妈的粽子 - 制作过程完全照相纪录》
On Friday, Mum started preparing the strings.
The strings were done!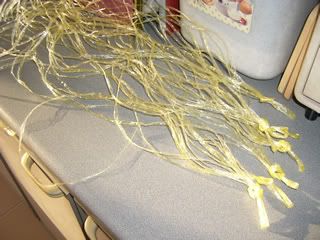 Next! Preparing the bamboo leaves~
Mum washed them in boiling water to remove the dirt and soften the leaves.
Mum washing the glutinous rice on Friday night before she went to bed.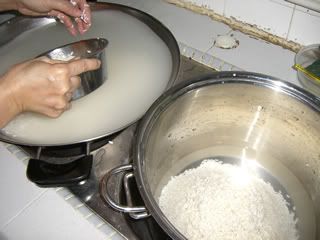 Woke up early on Saturday morning and my parents were already preparing to make the rice dumplings already!
Ingredient #1: Raw mushrooms (and some sliced ginger for the gravy).
Ingredient #2: Sliced mock duck (素腌鸭).
Ingredient #3: Stewed peanuts... still stewing and steaming hot!!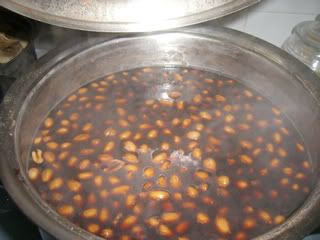 A bird's eye view~ =P Pardon the extras like the tissue and my dad's specs. LOL~
Adding 5-spice powder (五香粉).
Then adding pepper.
After the peanuts were drained off, the sauce is used to cook the mushrooms and finally the rice.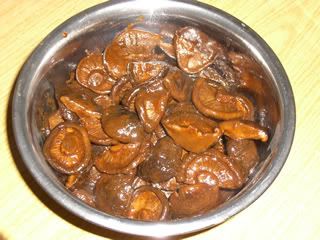 The peanuts waiting to be
wrapped
into rice dumplings!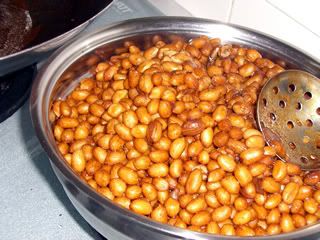 The mushrooms again, without flash this time.
The pieces of mock duck were fried.
Hmmmmmmm? Who's the fat girl in the reflection? =X
Taadaa~ The glutinous rice waiting to go up the stove next!
Mixing the rice with the sauce on slow fire. The sauce was already very thick and well-seasoned. Have to make sure that every single rice is coated uniformly with the fragrant gravy. =D~~
Mummy at work... See!! 好多料~ 好多料喔!! I can't wait for the rice dumplings to be ready to eat!!!
The rice and the bamboo leaves~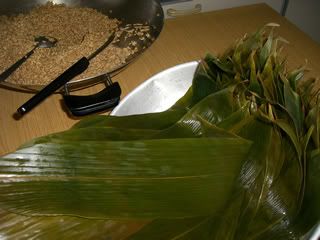 The yummy ingredients waiting to 被包. =X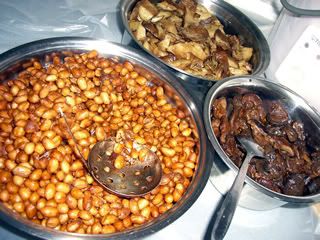 Wrapping the dumpling with bamboo leaves~
Ready to be boiled!! *anxious*
Dad helped Mum~ He trim the hard edges off bamboo leaves.
Boiling them in this big pot.
Vegetarian laksa takeaway for lunch!!
Mum's busy with the dumplings so Dad went to buy lunch back for us. I have a loving Daddy~ =)
It's my laksa... again~ =P I love to take photos of food!!!
So what if the table is occupied? It's lunch time!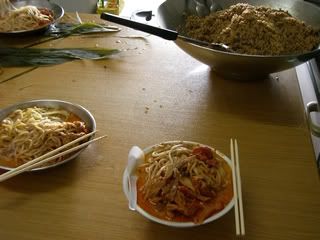 Continuing with the dumpings after lunch... The first few bunches of rice dumplings were cooked and ready to eat... I can't wait!
Boiled, cooked, and hanging at the sink to let the water and oil drip off.
Opps! One dropped off from the cooked bunch...
Mmmmmmmm... Looks
soooOOOooo
yummy! Irresistable~ 真是垂涎欲滴啊!!!
And so I ate it. Wahaha~ Such delicacy, how to resist?! 不要以为素食就会很无味。看!裹在粽子里的料好丰富哦!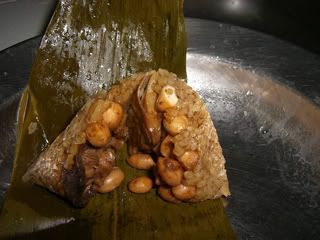 Busy kitchen! Mum said she doesn't want to be in the pics so I left her out, on the right.
Mum and Dad were kept busy at work on the rice dumplings, and all I did was just take photos. Wahahaha~ I love my mum's rice dumplings! I think it's world-best! Okies I'm bias, but personally to me, it was, it is, and it always will be the world-best rice dumplings!! Mummy promised to teach me soon with the leftover leaves... can't wait! Ermmm~ hope I won't make a big mess outta it. Kekeke~
最后,祝大家 - 端午节快乐!!!