Alright, let me start with my Japan Food Diary!!! I actually made this diary in GeoCities while I was in Japan, but did not get to complete it after my fifth week. Now it's entirely shifted over here, and finally completed!~ Have fun looking at the pics, refrain from drooling on your keyboard, and cheers!! (^_^)v
Week 1 in Japan (4th - 10th July 2005)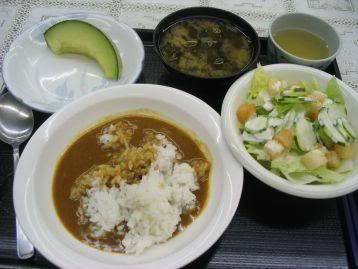 Monday: My first dinner in the dormitory. My colleagues who've been in the dormitory for months told me that every Monday is curry rice for dinner.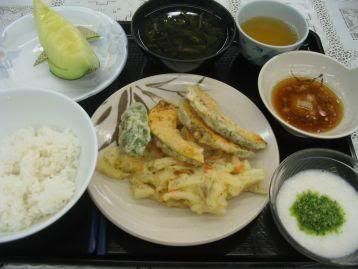 Tuesday: Tempura and rice set for dinner! Yummy!!! :D~ But also fattening... hahaha~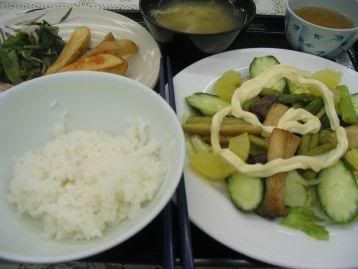 Wednesday: My dinner... think I put too much mayo on the veggies. LOL~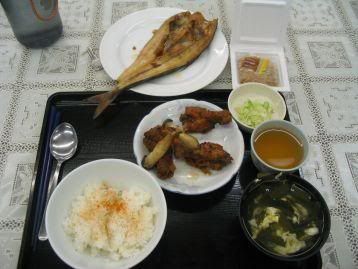 Thursday: My vegetarian dinner (aka. special meal) and non-vegetarian (aka. normal + very very sumptuous) dinner.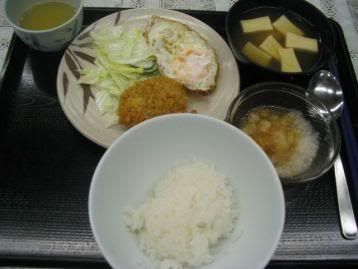 Friday: I started to take pics of my breakfast as well. Dinner out at party too many pics (too many food) so didn't bother to put them up. =p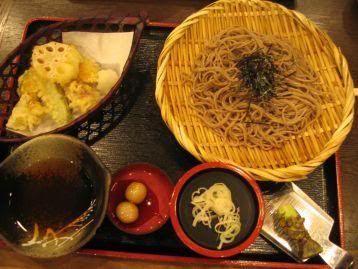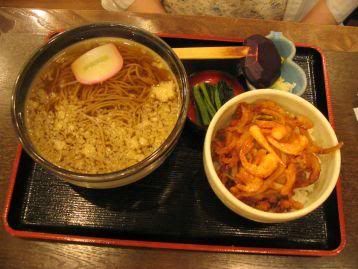 Saturday: My dinner (yasai tempura + cold soba set) and my Japanese friend's dinner (ebi-don + soba set, which seemed like a lot for me) at a Soba Restaurant. There's the fresh wasabi in the bottom right hand corner of my tray.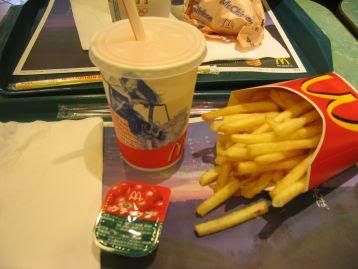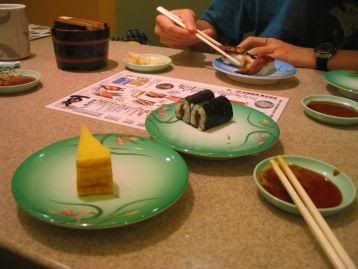 Sunday: My Lunch when we went to Yokohama Chinatown. Mac is the cheapest food there. Dinner at a kaiten-sushi place in Ebina.



Also Sunday: Snacking on fries in a nice Japanese-style Pub (WaraWara) in Ebina


More on my meals in Japan:

Rice, miso soup and green tea is sorta free flow here. You can find them all on a self-service countertop for every single meal in the dormitory.

Breakfasts and dinners for weekdays are provided in the dormitory cafeteria, while weekday lunches in company canteen. For weekends, we settle our meals ourselves.

Weekday lunch is always rice with some shredded veggies, either boiled in water or cooked in oil... terribly terribly nasty, so I shall not take any photos of my lunch to spoil ya appetite or remind myself of the agony.

As you can see, they serve rice for all the 3 meals everyday... I'm having rice for almost every meal (except weekend), ugh I'm so gonna get soooo fat! Me now trying to eat lesser and lesser rice... but so sedentary at company or back in dormitory, sure will still get fat one. *wails*


Week 2 | Week 3 | Week 4 | Week 5
Please comment in Week 5 entry. Thank you!!